Tonight, RGD hosted Future By Design, a free live screening and interactive discussion of 'The Future Designer',  hosted by George Brown College.
The design industry is constantly shifting to leverage advances in technology, accommodate demographic & ethnographic trends and adopt new and innovative ways of thinking. As new opportunities for creative work emerge, what skills will be required and how do we ensure future generations of designers have the skills necessary to maintain relevance for our industry? Join a discussion of the changing roles, opportunities and challenges facing the future designer.
The Moderator is Duane Bray, Partner and Global Head of Talent, IDEO NEW YORK. His biography is found below: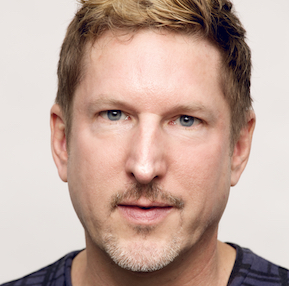 Duane Bray is a partner at IDEO and is the global head of talent for the firm, based in New York. He is passionate about areas such as workplace innovation, values and purpose, and how to align business needs with individual passions. Duane has a long history at IDEO, joining in 1995 to lead and develop the discipline of interaction design, now one of the firm's most sought-after capabilities. For many years, he led the firm's digital business, working in San Francisco and London, and developing relationships across consumer software, mobile and tablet, and web services. With a background in communication design and interaction design, Duane has led or contributed to scores of projects at IDEO, from digital products and services, to organizational strategies. His clients include American Express, BMW, Lincoln Center and United Airlines among many others.
And the panelists are as follows: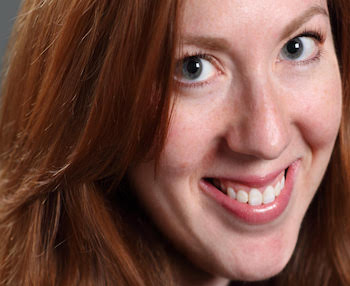 Margot Bloomstein is the principal of Appropriate, Inc., a brand and content strategy consultancy based in Boston. She partners with retailers, universities, and other organizations to create brand-appropriate user experiences that engage their target audiences and project key messages with consistency and clarity through both traditional and social media. Advertising and interactive agencies as well as large corporations turn to Margot to help grow their content strategy practices. Over the past decade, she's had a hand in shaping corporate social responsibility efforts at Timberland, content for alumni relations at Tufts University, and strategy for cultural tourism in the state of Nevada. The rogues' gallery also includes Sallie Mae, Scholastic, ECCO Shoes, Fidelity, Liberty Mutual, Philips, Lindt and Sprüngli, Furman University, Harvard University, and the Rhode Island Public Transit Authority.A participant in the inaugural Content Strategy Consortium and featured speaker at SXSW, Margot is a popular speaker at conferences around the world. Recent engagements include CS Forum, Confab, and Web 2.0. She also produces BrandSort, a tool embraced by consultancies of all sizes to clarify communication goals. She is the author of Content Strategy at Work: Real-World Stories to Strengthen Every Interactive Engagement and writes shorter missives on Twitter at @mbloomstein.
Matteo Bologna, founding partner and principal of Mucca Design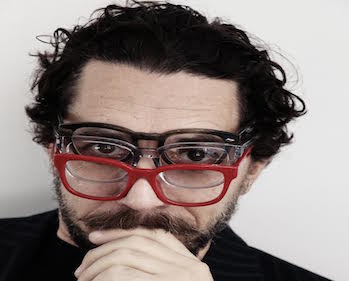 Matteo Bologna is the founding partner and principal of Mucca Design, where he also serves as Creative Director.Under his direction, the Mucca Design team has solved numerous design challenges and created uniquely successful work for a wide variety of global companies like Sephora, Whole Foods, Victoria's Secret, Barnes & Noble, Adobe Systems, Bacardi and Target. With his team he designed the identities for a variety of now classic New York City culinary destinations like Balthazar's and Brooklyn Fare. The work produced by the Mucca Design team has also been widely recognized by industry publications, competitions and exhibitions, including AIGA, Communication Arts, Eye, Graphis, HOW, PRINT, the Type Directors Club, the Art Directors Club. He is also the principal of the new Mucca Spin-off type foundry muccaTypo. Matteo is the Chairman of the Type Directors Club and former board member of AIGA/NY. He frequently lectures about branding and typography around the world.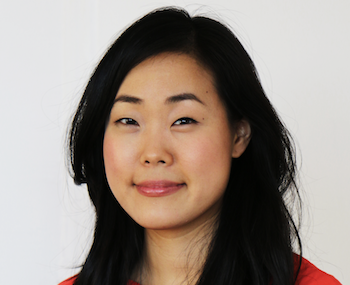 YuJune Park is the director of the BFA Communication Design program at Parsons School of Design at The New School. She is the co-founder of Synoptic Office, a multidisciplinary design studio operating in the space between graphic, interaction, spatial and product design. She holds an MFA in Graphic Design from Yale University and a BFA in Furniture Design from the Rhode Island School of Design. She has worked for, freelanced and collaborated with several studios, including Base Design, Project Projects, Mother NY, Graphic Thought Facility, and Pentagram for a variety of clients including the Museum of Modern Art, Milk Studios, the Davis Museum, and the AIGA.
The evening started with only a few of us, and I mean a handful of us taking the time of our day to learn about the future. As most digital presentations go, the seminar started about 10 minutes late. Then the host and the three panelists appeared on the screen. Duane opened the evening with a few remarks and introduced the panelist.
Margot went first with her presentation. Her talk was heavily focused on content strategy and the intersection of the user experience discipline with design. She showcased what an interaction design team looks like. She pointed out that if you see yourself here or in multiple roles this is a good sign. Where our responsibility is in our work and to our clients. And this is all about listening, empathy and elevated voices.
We all do this because we know how to be good people. And being good people means we have to speak up for what we believe in. For example, speaking about diversity from our point-of-view, which could be through imagery. Sustainability through materiality, and look for "opportunity costs" to get a better sense of our target audience.
Then she brought up "what is value?" Is is about repurposing or being wasteful. That we have to be the change in our niche areas force for good. "Capitalism won't fix capitalism." That it's not just good design, we need good people too.
Next up was Mateo. What I loved about his presentation was that he was very truthful about the work he does, in that, he looks to the past. He doesn't look to the future. In the historic looking type that he produces, there is a comfortability. He also prides himself in adding humour into his work. He likes doing signage because he likes letting people know where to go to the bathroom and where to get alcohol. Despite all the talk about the future, he believes that there will still be type.
And finally, Yujune gave us a peak into the world of Parsons. She started her presentation with a slide that said: "What do you learn in design school?" A question that she gets asked by parents all the time. What they do is create cross platform designers, both on and off the screen. Because the technology is constantly changing, the teach students to "learn how to learn" and to unpack the design dilemmas and go through the process to solve the problem.
Then they opened it up to general questions about trends and the future of design. What I was surprised was the lack of real insight into the future of design they had. They talked about occulus, AR, AI, Pokemon, content curation, deeper research, and implication around privacy.
But what the real question was: "What can designers do to shape the future of the profession?"
Here is where the panel gave some interesting opinions. Mateo's view was that designers will have to be more political than ever before. Margot, presented that we will have to answer some hard problems and ask the pressing questions. And Yujune ended with that we have to lead the value of design and understand that a tool makes the form but the heart and mind will fix what you do.
About Future By Design
Future By Design is a series of webcast discussions featuring experts sharing their thoughts on a variety of topics. As a virtual event, we invite cities across Canada to host local screening venues where members of the community can gather to watch panelists' presentations, conduct their own group discussions and participate via webcam in the Q&A. Click here to view recaps of our past Future By Design events.